History of Fanning, Fanning & Associates, inc. Consulting Engineers
Honoring the tradition of those who were the pioneers of our profession, we proudly claim a lineage directly from the early days of mechanical and electrical engineering consulting for the construction industry in Texas.
In the 1930's, R. F. (Reg) Taylor, the pioneer mechanical and electrical engineer in the Southwest, practiced in Dallas, Texas. He moved his practice to Houston, Texas, in 1936 at the close of the Texas Centennial construction. Ross Zumwalt, a Dallas native and 1933 graduate of the SMU Co-op school of engineering, decided to stay in Dallas.
.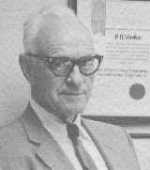 In 1938, Mr. Zumwalt was joined by P. N. (Peanuts) Vinther, a second generation 1921 A&M graduate in electrical engineering. They began a partnership practice offering consulting engineering services for mechanical and electrical systems in buildings.
Early commissions to design an air conditioning system with individual room control for the Federal Reserve Bank in Dallas and a central heating and cooling plant at SMU secured for them a reputation for innovative design. In 1956, with their reputation firmly established as preeminent among consulting engineers, Zumwalt and Vinther opened a branch office in Lubbock, Texas.
.
Jack Roberts, having joined the firm in 1948, became their first Resident Engineer.
Qualified in both mechanical and electrical disciplines, Jack brought to Lubbock state-of-the-art engineering techniques, and shared his knowledge with the staff he assembled. It has been put to good use, and generations of engineers are indebted to him for the inspiration and material help in achieving their ambition of becoming professional engineers.
.
Norris Fanning . was hired as a working ME student at Texas Tech the first year... As a working EE student,. John Fanning joined the staff in 1962.. The Lubbock office provided engineering services in West Texas and New Mexico under Mr. Roberts' direction until 1970. In 1970 Norris Fanning was named associate, then vice president in charge of the Lubbock office. The Lubbock office was purchased by the Lubbock employees in 1974. Zumwalt and Vinther, in a gesture so typical of these great gentlemen, financed the purchase and helped insure that not a single client was lost in the transition.
Since the organization of Fanning, Fanning and Associates, Inc., a steady growth has been experienced in the number of projects and clients. This growth has been matched carefully by the selective addition of personnel of the highest calibre. Scott Fanning joined the staff in 1976 while a high school student. Others who share the philosophy we learned from our mentors have joined us over the years. Many of these worked their way through college with us. Some have joined us after distinguished careers in related fields, bringing a wealth of experience and maturity to our company. 2nd and 3rd generations joining the firm include Scott, Doyle and Tyler Fanning.
Our firm has honored the tradition of supporting our professional societies. Seven of our engineers have served as president of the West Texas Chapter of ASHRAE over the years. Jack Roberts has served as Region VIII chairman and on national committees. Some have served as officers in CSI, IES, and CEC. Others belong to NSPE, ASME, NFPA, and similar professional groups, as well as serving the community through churches and civic clubs. We have always believed in paying our dues to our profession and our community.
It has been our practice to lead in adapting technology to our profession. We were first to develop software and use computers routinely for engineering load calculations in 1967. Master specifications and word processors were used in our office before the PC revolution. We were among the first to develop our own CAD software to produce our drawings, beginning in 1980. And we are continuing to invest in software development. We like it out here on the leading edge.
The firm has enjoyed a continuing relationship with many of our clients from 1956 to the present. A cursory review of our client list reveals a lot of friends who have retired or gone on to their reward. We are glad we were associated with them. As we close on the 5000 mark in completed commissions, we are proud that our clients continue to select our firm to provide engineering services on their projects.
For a History of Zumwalt and Vinther by Peanuts Vinther, click here to download File://zv.txt. 122k.